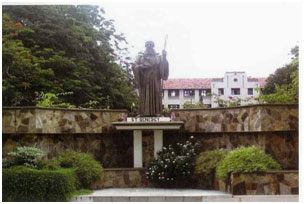 In 1988 Ranjit Swaris and the late Edward Benedict, loyal graduates of St. Benedict's College, Kotahena, led the charge to build an Old Bens' Association in New York. Bens Alumni Association of New York is now thought to be the first organization associated with a Sri Lankan school to be organized in the United States.

Since that pioneering success of the Old Bens, alumni from other institutions have followed suit to create a vibrant Sri Lankan-American social scene especially in the New York and Washington metropolitan areas. This is particularly so when it comes to the annual dinner dances, a tradition initiated by the New York Old Bens and replicated to great effect by other alumni associations with larger memberships.

According to Dr. Juventinus (Casey) Thampoe, present President of the Association, "the inaugural meeting [of Bens' Alumni Association] . . . was held on June 25 in Riverdale, New York, at Manhattan College, a University run by the LaSallian Christian Brothers. The meeting was presided by Bro. Timothy Wentworth (Visitor, De La Salle Provincialate, New York District). Others in attendance included Fr. Joe Vas (Former Director of St. Benedict's College), Bro. Leo Chormon (President, Christian Brother's Center), H. E. Daya Perera (Sri Lanka's Permanent Representative to the United Nations), and Rev. Piyatissa (Chief Incumbent, Sri Lankan Buddhist Temple, New York).

The members of the inaugural Board of Directors were Ranjit Swaris (President), Susil Jayamanne (Vice President), Edward Benedict (Secretary), Luke De Silva (Treasurer), with Anton Anandappa, Yolande Bavan, Annesley Fernando, Nimal Fernando and Juventinus Thampoe elected . . . Board members."

The primary mission of the Association has always been to raise and contribute funds to better the education and extracurricular activities at St. Benedict's. From its inception the Association has met every fundraising request the Kotahena institution has made, including support for the Bro. Luke and Bro. Alexander buildings. Several Benedictine Night Dinner Dances were organized over the years until Edward Benedict passed away in June 2000. Since then, the Association has funded English education instruction at St. Benedict's. Recently the Association contributed US $5,000.00 to the St. Benedict's College Grounds Development Project. Its next major fundraising drive seeks to create a scholarship fund honoring the memory of Edward Benedict.

The fundraising efforts of the New York Old Bens have been embraced by the expatriate Sri Lankan community in the tri city area, most of whom have no direct ties to St. Benedict's College. Bens Alumni Association of New York is ever grateful for this generous support.

Edward Benedict aspired to create a concrete link between St. Benedict's College and Manhattan College. This did not transpire during his lifetime, yet in 2006 the Association, together with Manhattan College and the Old Boys' Union at St. Benedict's, sponsored a study abroad program enabling a dozen students and three faculty members from Manhattan College to spend two weeks at St. Benedict's. Subsequently, three students spent six weeks teaching at St. Benedict's during the summer of 2006.

Most funds for the latter program were raised through a raffle ticket draw the Association organized.

The escalating political unrest in Sri Lanka has prevented Manhattan College students revisiting St. Benedict's. Yet, this is a link both the Association and Manhattan College are eager to maintain.

Edward Benedict's wife, Chitra, a former teacher at St. Benedict's College Primary, and their two children continue to support the Association in his name. Ranjit Swaris, who also taught at St. Benedict's from 1955-69, was voted the fist ever Vice Patron of the Association at the 2007 Annual General Meeting. Its small membership notwithstanding, Bens Alumni Association is proud to keep the green and white fluttering in the New York metropolitan region and will continue to promote St. Benedict's College as it progresses from strength to strength!